I love fiber swapping. The fine folks over at
Phat Fiber
put together a holiday swap for the contributors. It was a great deal of fun.
I put together what I thought was a lovely gift for my swap partner, within the suggested $50 budget. I sent her a pretty silk cap for spinning, some gold merino, a red/white/green braid, a large bulky skein of handspun wool, and a handwoven bamboo scarf.
My package came today, and I felt like a bit of a heel. What I sent just pales in comparison to what I received, and I'm the sort of person who feels guilty about stuff like that. I got all of the following: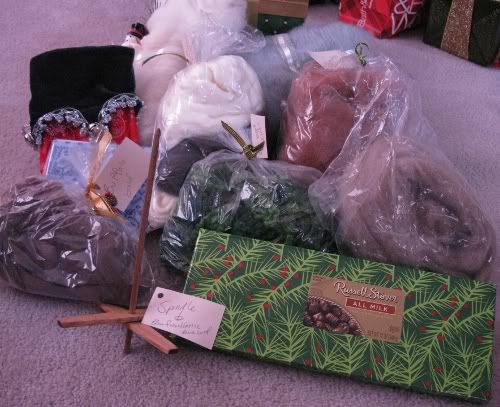 There is a white merino/milk/nylon batt, a blue merino/silk batt, cinnamon-red alpaca, BFL locks, Buffalo Gold, a bag of milk, bamboo, and soy silk, and some corriedale roving with a small turkish spindle. Plus chocolates.
It's all so very beautiful!